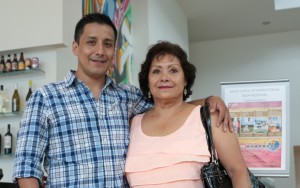 2014 Shen Zhou International Film Festival is held on July 22 at the Angelika Film Center. All of the films are showed on the film festival are about Falun Gong practitioners' stories. They include "Shake the World," "Forever," "Awakening," and the documentary "The Story of Two Artists." The second screening, "Forever," was shown at two o'clock in the afternoon. Many of the audience had tears in their eyes and even hugged the staff, thanking them for showing the film.
Image: Mr. Marco Rojas and his mother. (Photographer: Ziqing Su/The Epochtimes News Paper)
"Forever" tells the story of a male Falun Gong practitioner that was beaten to death by the police on the day before his wedding. This is a true story based on the life of Falun Gong practitioner Zuo Zhigang. In the city of Shijiazhuang, Mr. Zuo Zhigang was taken from his workplace by police captain Li Rongqi. He died after a night of brutal torture. To this day his remains are located in an icebox of the Shijiazhuang Funeral Parlor. Many of the audience were quite moved by this film.
Mr. Marco Rojas, manager of Coca Cola's Virginia branch, brought his mother to the film festival. After watching "Forever" both were quite shocked by the content of the movie and felt that they learned a lot.
Before watching the movie, Mr. Rojas did not know the persecution of Falun Gong in China. He said "The movie shocked me a lot. I never knew the persecution of Falun Gong before, this is a really great movie, I felt I learned a lot today.
He also likes the character of Falun Gong practitioner in the movie. Mr. Rojas said, "That male main character of Falun Gong practitioner is very moving, his action always encourages the people around him to be better people, he positively affects everyone around him, including his boss and colleagues. He tells other people how to be a better person, people around him all benefit from him, I love this a lot."He was also impressed with the performances of the actors, he thinks they are all excellent actors.
He continually said, "Also, when I knew this movie was based on a true story, I felt this movie was even more inspirational.
Talking about the persecution of Falun Gong, he said, "The persecution is absolutely wrong, everyone should have the rights and freedom of belief. I am happy that so many people support them, also there is such movie for supporting them, to support those people who are facing the injustice. I hope one day they can get their justice back which they should have."
He said there should be more movies like this, to help more people know the persecution, "So there will be more people to support Falun Gong."
(By Epoch Times)